Background
Creating Web Sites
Web site maintenance
Feedback to plugins and themes
Background information.
2022 November
I took over the clients from Coinno while Stefan whom I worked with started working at another company.
This means I handles such clients as gjeldsmegler1.no , natrud.no (huge WooCommerce store), gullhuset.no (WooCommerce store) as well as other clients. In total of 15 different clients with different needs. I also run these with a maintenance subscription where I keep an eye on uptime, security, performance, backups, maintenance and more.
2020 April/May
I asked Matt (Mullenweg) if Automattic could sponsor me a few hours each week. He was open to it. The sponsorship end up lasting for a year. During that time I had an even stronger focus on contributing to the design aspect of WordPress.
More information here: https://paaljoachimromdahl.com/contributing-to-wordpress/
We use Figma in WordPress core. It is a really good design and prototyping tool to show workable designs.
2017
I began to spend more time contributing to WordPress core, and especially Gutenberg. Using the Gutenberg Github repository to fill out issues was a lot easier than using WordPress Trac ticketing system. I have used various opportunities to help out. Be it with design, testing or suggesting features. My profile on WordPress.org.
2012
I also began my career working freelance. Creating various web sites for smaller companies. Today I would a mix of freelance and for a web performance company here in Oslo, Norway called Coinno/CoPerformance.
2012.
Interaction Design and web design online teacher for NKI from 2012 to 2018.
2009 – 2010 Sogn high school and 2011 – 2012 Noroff high school.
Media teacher in high school teaching Adobe software programs as well as some WordPress. At the time I also made various tutorials making it easier for students to be able to learn.
I have been creating web sites for a long time.
Actually the first web site I built using HTML was back in 1996. Since 2012 I have built a lot of web sites. Usually for smaller organizations or individual focused web sites with their specific needs. I selected 4 web sites I made to give some variation of the kinds of web sites I have done.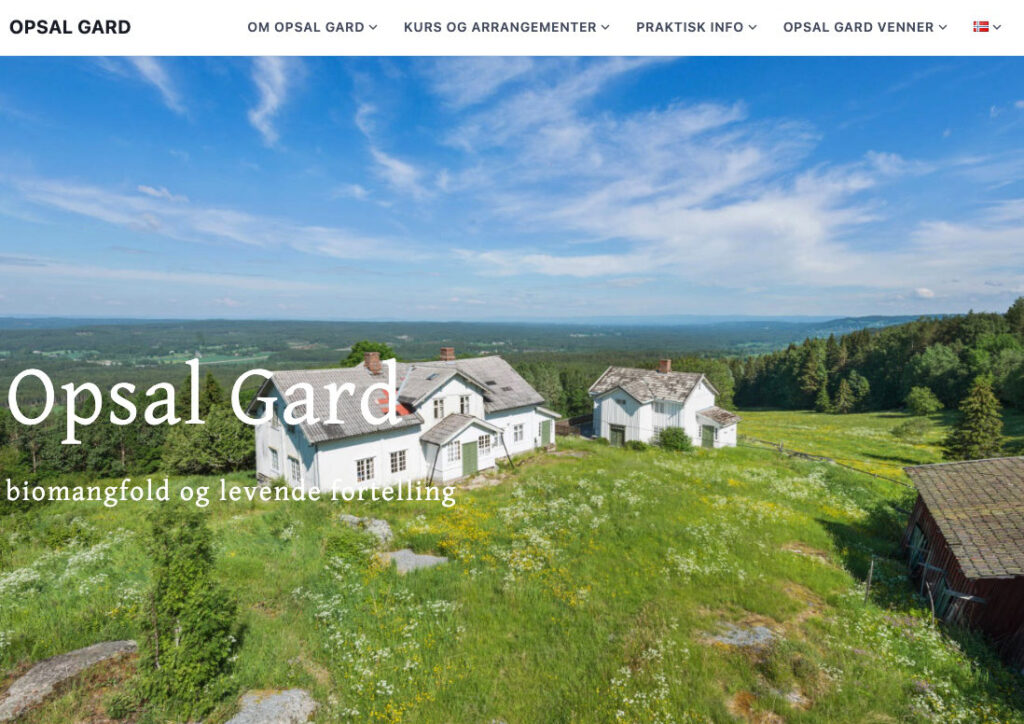 Opsal Gard. Located a bit north of Oslo. A farm web site. Showing what is going on at the farm. Maintenance of buildings, workshops and other activities.
Galleri Klevjer. Located in Hønefoss. An unique building used as a galleri and also has various exhibits.
Kulturhuset Stabekk Kino (cinema and event) web page from around 2017.
As I have been working part time at Coinno for a few years I have also helped create various web sites there.
Web site maintenance
Creating a web site is more than the initial creation. It is also about maintenance, updates, security and just making sure that the web sites runs as it should. People have different needs for their web sites. I am able to help out in many different aspects of it. Be it e-commerce, finding a needed new plugin, fixing a bug, adding a new post or a general how to do something. So even though the web site has been created it needs followups that happen regularly.
Feedback to plugins and themes
I love to give feedback to products that peaks my curiosity. Some of the companies/plugins I have given feedback to are…
Easy Updates Manager
"Paal Joachim was instrumental in the new Easy Updates Manager UI that is installed on over 100,000 sites. He provided working examples to ensure the plugin is as intuitive as possible. I worked closely with Paal Joachim and released version 7.0 of the plugin. Support requests were very minimal after the update and I find the plugin more in line with allowing users to configure their updates."
February 5th 2018
Ronald Huereca
Developer of Easy Updates Manager:
wordpress.org/plugins/stops-core-theme-and-plugin-updates/
Time.ly with All-in-One Event Calendar
"Paal has been an amazing resource to our team. As a growing startup with big ambitions, we've struggled with achieving the right product/market fit. Paal has helped direct our development team and guide us through our support woes during our most challenging times. We now stand more comfortable with over 145,000 users and a leader in our field. Paal has an unique ability to see what users need, where the market is going, and what the easiest (low cost) development required to achieve maximum market share. He is a clear communicator, good team player and an asset to any development team."
June 17th 2015
Bradley Roulston,
VP Sales & Co-founder Time.ly Network Inc
wordpress.org/plugins/all-in-one-event-calendar/
time.ly
Theme Punch with Slider Revolution
"Paal helped us a great deal in improving and quality testing our premium plugin "Slider Revolution Responsive WordPress Plugin". "Slider Revolution Responsive WordPress Plugin" is currently the best selling premium WordPress plugin with over 10,000 sales in total at Envato's plugin marketplace "CodeCanyon" https://codecanyon.net/page/top_sellers .
Hence we have high needs in a person helping us to stabilise or even improve this status. With Paal's excellent QA testing skills and his feeling for the UI needs of potential users he helped us a great deal to release our milestone Version 3.0 without any major issues after the release date.
Thanks to his ideas and suggestions we were even able to improve some areas we did not even think of."
Sincerly,
Dirk Gavor
ThemePunch GbR
https://www.themepunch.com/
19th August 2013
Snapcreek with Duplicator
"Paal has been very instrumental in the development and growth of a popular WordPress plugin called the Duplicator, which is currently ranked #34 https://wordpress.org/plugins/browse/top-rated/page/3/ in the most popular plugins in WordPress. Paal was the very first contributor and QA tester of the plugin, and has been very instrumental in driving ideas, providing help and helping with feedback for this work. With his knowledge of MAC and excellent teaching skills he has helped to provide online tutorials, videos, answer forum questions and provided valuable support for this plugin to the community at large. Having Paal on the Duplicator team has been extremely valuable!"
Cory Lamle
Developer of Duplicator
The backup, Copy, Clone plugin Duplicator
– 2015 (Ongoing tutorial training for Duplicator.)
Some of the feedback from users to my video tutorial on using the plugin Duplicator:
"Hi! I just wanted to thank you a MILLION times over for posting the tutorial on Duplicator. It literally saved me a contract with a rather tricky transfer. Thank you so much for posting that! You rock!"
Jennie
"Excellent step by step details. My only resource when moving a site and it worked perfectly."
Rick
"Thank you a thousand times. It was very easy to clone a live site to localhost with the help of this video. I had sleepless nights about doing it until I found Duplicator and then this video. You're the best!"
Kerppu
"This is the best tutorial on this subject I have found thus far and the only technical tutorial I have been able to follow throughout without having to go to another source to fill in the gaps ! Thank-you so much!"
Yin AndRee
I have also worked with Ninja Forms, WordImpress, CalderaWP, SendPress and others.